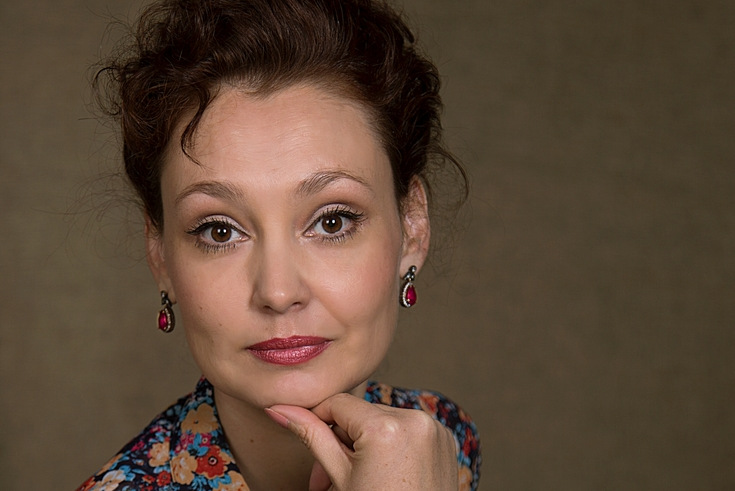 A leading Actress of the Youth Theatre of Uzbekistan,
A Chief leader of theatrical festivals' international projects,
A Costume Designer,
A Pedagogue of aт acting skill and stage speech of the School-Studio of Dramatic Arts at the Youth Theatre of Uzbekistan.
Graduated from the Tashkent State Institute of Theatrical Arts – "Theatre and Cinema Actor" faculty (master of the course – N. Abdurakhmanov) at 1996.
Works at the Youth Theater of Uzbekistan since 1993.
Currently stars in numerous on-going productions of the theatre's repertoire.
The list of roles counts near to 50 characters of most various genres.
V.Vasileva as an art-manager of a theatre festival, successfully manages discovering of shows and organizing their participation in festival programs as well as of various master-classes and international projects' development and their further accomplishment.
She successfully works as a costume designer for many productions of the theatre, and a number of collaborative international productions too. Her records of service include 16 productions in Tashkent, 2 in Israel and 2 in Russia.
The actress shares her rich experience and mastership to young generations of performers by serving as a pedagogue of the School-Studio of Dramatic Arts at the Youth Theatre of Uzbekistan.
She has got an experience of working both on theater stage, cinema and television screens.
One of the highlights of her cinematic career is the leading role in the S. Nazarmukhamedov movie "In Sleep I Cry Bitterly".
Her work on television is marked with a hosting and co-authoring a special program for women "Between Us" in a span of 2 years.
RESUME (as an actress):
"PRINCESS TURANDOT" of С. Gozzi – the title role of Turandot
"A HAPPY END" of I. Netanyahu – the lead female role of Leah
"KHOLSTOMER, THE HISTORY OF A HORSE" by L. Tolstoy – the lead female role of Vyazopurikha
"PARABLE ABOUT LOVE GIVEN" by A. Navoi – the lead female role of Virgin (St-Petersburg – Tashkent)
"TARTUFFE" by J.-B. Moliere – Elmire
"FIDDLER ON THE ROOF" by Sholom-Aleichem – roles of Godl; Tseitl
"DOCTOR IN SPITE OF HIMSELF" by J.-B. Moliere –Martine
"EQUUS" by P. Shaffer –Jill; Esther
"SHARORA THE DANCER" by T.Zulfikarov – Virgin (Angelina - Adeline - Adelaide - A War)
"SODOM AND GOMORRAH - XXI" – plastique/dance show in a style of progressive rock – the lead female role of Maiden
"CONSTELLATION OF OMAR KHAYYAM" by T. Zulfikarov – Turkan-Khatun
Joint project "Nasreddin.Love.ru" of T. Zulfikarov – Poet-Dervish (St-Petersburg – Tashkent)
"EIGHT LOVING WOMEN" based on R. Thomas play –Augustine
"THE HONEST PEOPLE" based on I. Turgenev's "Month in a village" play – the lead female role of Natalya
"Cinderella" of E. Schwartz – the title role of Cinderella
"The Tinderbox" of G.-H. Andersen – Princess
"The little match girl" by G.-H. Andersen – Cold Spirit
"A Scarlet Flower" by S.Aksakov – the lead role of Alyonushka
"Holiday Of Disobedience", S. Mikhalkov – the role of the oldest daughter
"Chamber-shock", S. Mikhalkov –Mouse; Fox
"Tree Piglets", S. Mikhalkov – of Nif-Nif
"The Sentry of His Majesty" of A. Vasileva – The Princess
"Puss in Boots", Sh. Perro – The Princess
"The Turpin", a Russian folk fairytale – the role of The Bird
"Thumbelina", G.-H. Andersen – The Swallow
"The True Santa Clause" – Maria Ivanovna
"Skomorokhshian Tale", a Russian folk fairytale – the role of Alyonushka
"When Dolls Aren't Sleeping" – the role of Rose the doll
"A Skewbald Dog, Running Across The Sea Shore", Ch. Aytmatov – the role of The Sea
"Subbastik" – the role of the schoolgirl
"A New Year Fairytale" – the role of Vasilisa the Wonderful
Outdoor show "Navruz" – the role of the Spring
"Crash-Boom-Tararam!...", B. Sikora – the role of the clown-girl
"A Mystery of Sacred Necklace" –Reykhana
"Theatrical Steps – 1", R. Kashaeva –Skomorokh
"Theatrical Steps – 2", R. Kashaeva – Indian taleteller
"Theatrical Steps – 3", R. Kashaeva – Aphrodite
"A Hot Ice-Cream", I. Maran – Rose
"The Snow Queen" by E. Schwartz – the roles of The Princess; The Snow Queen
"Semurgh" by Kh. Alimjan – the role of Peri
"A Cat's House", S. Marshak – The Cat
RESUME (as a costume designer):
"Games of Olympus", R. Kashaeva
"WORLDS IN COLLISION", Iddo Netanyahu
"SCARLET SAILS", A. Grin
"Alladin's Sacred Lamp", from the book of "1000 and 1 Night" 
"A WOMAN IS A DEVIL", P. Merimee
"A HAPPY END", Iddo Netanyahu
"TARTUFFE", J.-B. Moliere
"DOCTOR IN SPITE OF HIMSELF", J.B. Moliere
"FIRST LOVE OF KHODJA NASREDDIN", Timur Zulfikarov
"EIGHT LOVING WOMEN" based on R. Thomas' play
"THE HONEST PEOPLE", based on the I. Turgenev play "Month In A Village"
«OVER AN ABYSS IN A LIE...» based on T. Williams, A. Makayonok plays
"The Snow Queen", E. Schwartz 
"Brokeback Hobbyhorse", E. Ershow
"The Scarlet Flower", A. Aksakov
"Snow White and Seven Dwarfs", the Grimm Brothers
Joint Project "Nasreddin.Love.ru", T. Zulfikarov (St-Petersburg – Tashkent)
Joint Project "Parable About Love Given" by A. Navoi (St-Petersburg - Tashkent)
"CONSTELLATION OF OMAR KHAYYAM" by T. Zufikarov (also a set designer and a choreographer of the revival) (Israel)
"A Little Wagon" (Israel)
"AUTUMN ENNUI" by comedy of N.Nekrasov