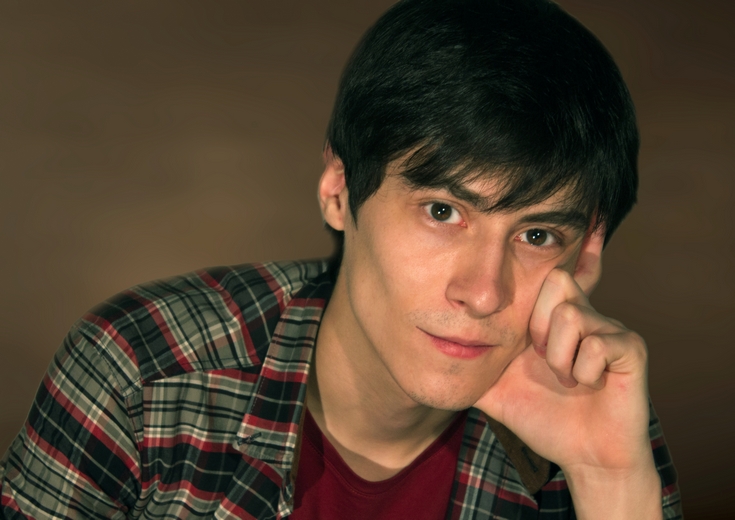 An actor and Director of the Youth Theatre of Uzbekistan
Pedagogue of acting skill and stage speech in the School-Studio of Dramatic Arts at the Youth Theatre of Uzbekistan.
Graduated from the State Institute of Arts in 2010, specializing as Director. As a part of curriculum he staged one-act play of his own version of V. Tendryakov's "The Night After Graduation".
His diploma production by the play of A. Makayonok "Maltreated Apostle", which is now the act-two of the show "Over An Abyss In A LIE…".
In 2011 he staged "Snow White and Seven Dwarfs" of the Grimm Brothers. Currently he continues his artistic activity at the Youth Theatre as an actor and director.
In 2014 he has staged the show "Maltreated Apostle" of A.Makayonok in State Academic Russian drama theatre named after M.Gorky, Astana, Kazakhstan, which successfully goes in a repertoire of the theatre.
At December, 9, 2015 the premiere of his staging of "Michael Kolhaas" by a classic German writer Genrich fon Kleist took place in Junges Theater of Heidelberg, Germany, which was warmly met of spectators and took its worthy place in a repertoire of the theatre.
DIRECTING RESEUME
1. "Maltreated Apostle" of A.Makayonok in Youth theatre of Uzbekistan
2. "Fairytale of Tsar Saltan" by A.Pushkin (together with G.Musrafin).
3. "Snow White and Seven Dwarfs" by Grimm Brother
4. "Maltreated Apostle" of A.Makayonok in State Academic Russian drama theatre named after M.Gorky, Astana, Kazakhstan
5. "Games Of Olympus" by R.Kashaeva (together with Kamilla Abdurakhmanova)
6. "Michael Kolhaas" by G.Kleist in Junges Theater of Heidelberg, Germany

ACTING RESUME:
1. "WORLDS IN COLLISION" by I. Netanyahu - Velikovsky
2. "FIDDLER ON THE ROOF" by Sholom-Aleichem – Fiddler
3. "FIRST LOVE OF KHODJA NASREDDIN" by T.Zulfikarov –Nasreddin
4. "SCARLET SAILS" by A.Grin - Den
5. "EQUUS" by P.Shaffer – Alan Strang
6. "A WOMAN IS A DEVIL" by P.Merimee – Antonio, Khodji-Numan
7. "Over An Abyss In A LIE…" by T.Williams and A.Makayonok – Tom, Grandfather
8. "CONSTELLATION OF OMAR KHAYYAM" by T.Zulfikarov – Daos-boy, Nizam al-Mulk
9. "KHOLSTOMER, THE HISTORY OF A HORSE" by L.Tolstoy – Feofan
10. "A HAPPY END" by I.Netanyahu – Waiter, Person from the theatre
11. "PARABLE ABOUT LOVE GIVEN" by A.Navoi - Head Murid
12. "PRINCESS TURANDOT" by C.Gozzi – Tartalya
13. "TARTUFFE" by J.-B.Moliere – Interlude dancer
14. "DOCTOR IN SPITE OF HIMSELF" by J.-B.Moliere – Interlude dancer
15. "DOCTOR IN SPITE OF HIMSELF" – People
16. "THE HONEST PEOPLE" by I.Turgenev – Shaaf
17. "THE LITTLE MATCH GIRL" by H.-K.Andersen – Blind Musician
18. "A Scarlet Flower" by C.Aksakov – The Beast
19. "Holiday Of Disobedience" by S.Mikhalkov – Grandfather
20. "Puss In Boots" by Charles Perrault – Jack, Markiz de Kabaraz
21. "Fool's Carnival" by R.Kashaeva – Maskharaboz
22. "The Snow Queen" by Eu.Schwartz – Kay, Fairytale teller
23. "The Cat's House" by S.Marshak – Kitten, Rooster
24. "The Magic Humpbacked Horse"– Skomorokh, Mesyac Mesyacovich
25. "Creeps" by L.Hubner – a voice behind a scene
26. "Fairytale Of Tsar Saltan" by A.Pushkin – Pushkin
27. "Shensyan. Chineese fairytale" by A.Vasileva and G.Mustafin – Little tiger
28. "Gift To Sweetheart Princess" by Uzbek fairytale –Arshinbay
29. "Alladin's Sacred Lamp" – Gin
30. "Frolic Boy" by G.Gulom – Maskharaboz, Omon
31. "Stars On A Palm" by R.Kashaeva – Actor, Stepmother
32. "Rock-Talk-Show "A Big Mouse Trap" by S.Marshak – Host
33. "Bewitched Tailor" by Sholom-Aleichem – Hayim Hone Wiseman
34. "Reflection" – a man from the Theatre