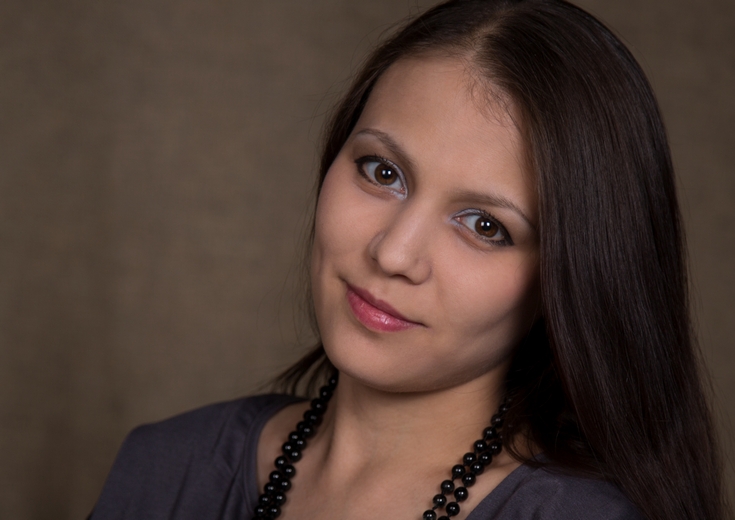 A Director and an Actress of the Youth Theatre of Uzbekistan
Pedagogue of acting skill, orthoepy, stage speech, dance and creative psychology in the School-Studio of Dramatic Arts at the Youth Theatre of Uzbekistan.
Pedagogue of acting and directing skill at the State Institute of Arts and Culture of Uzbekistan.
Since the age of 10 she was involved in the productions of the Youth Theatre as Munisa ("Constellation of Omar Khayyam" by T.Zulfikarov) and the Little Girl ("Parable About Love Given" by A.Navoi)
Graduated the School-Studio of the Youth theatre in 2002, the Senior School of National Dance and Choreography in 2004 and the Arts Institute of Uzbekistan named after M. Uygur, as well as receiving the Master's Degree of "Drama theatre director".
February 18, 2008, was marked as her directional debut with the production of "The Reflection" – a concert-spectacle on the stage of the Youth Theatre with the collaboration of the group "Termin Vox".
DIRECTING RESUME
1. "The Reflection"
2. "Stars on a palm" by R.Kashaeva
3. "OVER AN ABYSS IN A LIE…" by T.Williams
4. "SCARLET SAILS" by A.Grin
5. "Aladdin's Sacred Lamp" by fairytale 
6. "Games Of Olympus" by R.Kashaeva (together with Obid Abdurakhmanov) 
ACTING RESUME:
1. "PARABLE ABOUT LOVE GIVEN" by A.Navoi – The Little Girl
2. "CONSTELLATION OF OMAR KHAYYAM" – Munisa, Hullay
3. "EIGHT LOVING WOMEN" by P.Thomas – Luisa
4. "FIDDLER ON THE ROOF" by Sholom-Aleichem – Beylke, Fruma Sarah
5. "KHOLSTOMER, THE HISTORY OF A HORSE" by L.Tolstoy – Buraya
6. "SODOM AND GOMORRAH - XXI" – Lucifer's Suite
7. "SCARLET SAILS" – Betsy the Maid, Citizen, Asole's Mother, Girl at the Bar
8. "A WOMAN IS A DEVIL" by P.Merimee – Marikita, Mohana
9. "A HAPPY END" by I.Netanyahu – Anna, A Person from the theatre
10. "SHARORA THE DANCER" by T.Zulfikarov – Sharora
11. "The little match girl" by Andersen –Warm Spirit
12. "Fool's Carnival" by R.Kashaeva – Hostess
13. "Fairytale of Tsar Saltan" by A.Pushkin – Swan 
14. "Shenshyan. A Chinese Fairytale" by A.Vasileva and G.Mustafin – Chu In-Tay
15. "Snow White And Seven Dwarfs" by Grimm Brothers – Snow White
16. "Puss in Boots" – Pussie in Booties (a project of International Summer Theatre Workshops of Theatre Union of Russia)
17. "The Snow Queen" by Eu.Swartz – Gerda
18. "Rock-Talk-Show "A Big Mouse Trap" by S.Marshak – Cat
19. "A Scarlet Flower" by S Aksakov – Alyonushka
20. "the magic humpbacked horse" by P.Yershov – Skomorokh
21. "At The Christmas Nights" by A.Chekhov – Skomorokh
22. "At The Bottom" – Nastya (a project of International Theatre Workshops of the International "Meetings In Russia" festival, St-Petersburg, Russia)
23. "STARS ON A PALM " by R.Kashaeva – Zumrad
24. "Composition "Do-Major", based on poems and songs of the WWII time – Skomorokh (a project of International Theatre Workshops of the International "Meetings In Russia" festival, St-Petersburg, Russia)