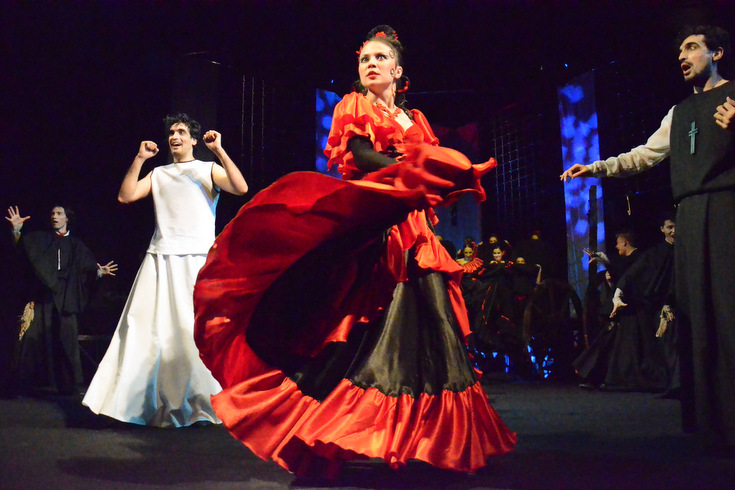 a comedy by two plays of P. Mérimée.
Performance is a worship of a woman, worship of her talent and beauty, but even more - it is a spectacle about a man, about his necessity to love, his ability to throw everything at the feet of Loving one.
Directed by – Honored Worker of Arts of Uzbekistan – Nabi ABDURAKHMANOV
Set designer – Dmitry MOKHOV (Belorussia)
Designer of revival and Costume designer – Vassa VASILEVA
Composer – Ilya MELAMED (Russia)
Choreographer – Anna TRENINA
Duration – 2 hours 30 minutes
Premiered on December 12, 1992
The revival premiered on June 21, 2013
You better not trifle with the inquisition – this lesson was well-learned by countless alchemists, pythonesses and fortunetellers of the dark Middle Ages. Learned, by the way, to their misery – posthumously. But if a pretty woman is put behind the bars within an inquisitional institution – that's when a tragedy transforms into a farce. Those 'selflessly driven' monks, whose ardent sanctity already led to the stake numerous innocent "witches", now, are not less 'driven' (and even more passionate) to give everything away (pretty successfully, by the way) in exchange for… A woman! The brood of the fire! The beast of the hell!
By this, the ultimate verdict, which inspired the play's title, forestalls the most spectacular and bizarre carnival extravaganza, the essential core of which is the alteration of roles and characters' functions.
The stake, which was initially supposed to burn the woman-devil, burns the monks themselves from the inside for it's a fire of passion and symbolizes the thirst for life.
It's pretty hard to say for sure how many theatrical acts this play would require and it gets even harder – just to consider a courage it must take to present the audience with the deeds of men, who are driven by overwhelming love. At the end, the Youth Theatre of Uzbekistan decided to follow the original path of Prosper Mérimée, and thought two acts would be enough for the show. The same views were shared by the audience members themselves, who found it quite satisfying to discover this 'brief manual' on "How to survive with a woman".
The second act about two blood-brothers, one - a Bedouin and the other – an Arab, which ends in a lethal outcome, never draws a final line but rather puts an impressive 'question mark': under whose, for heavens' sake, first-hand charge is a woman – the God or Devil?