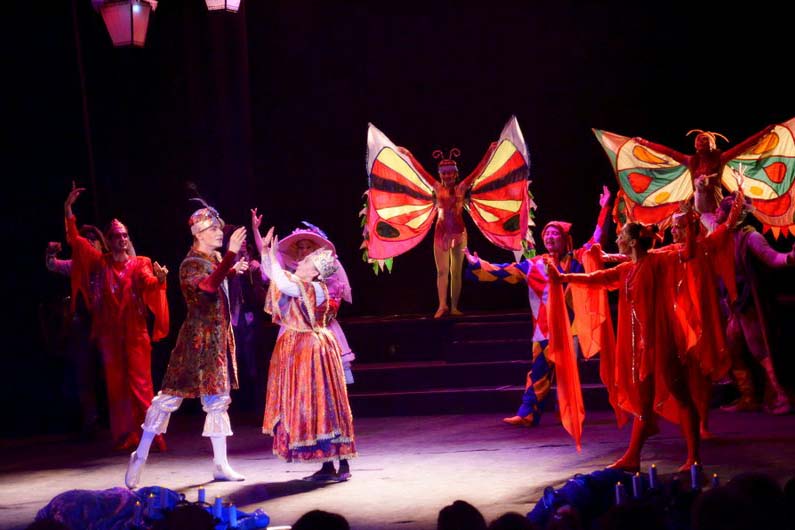 based on the same name tale
by H.-K. Andersen
The original theatre version of well known tale is made in a plastic/dance style, nevertheless in this without words performance the theme of the lost and alone Girl who vainly tries to find happiness on our guilty Earth - penetrates spectators.
Libretto and directed by -Honored Worker of Arts of Republic of Uzbekistan Nabi ABDURAKHMANOVI
Composer -' Laureate of International awards Dmitry YANOV-YANOVSKY
Set design and costumes -WLaureate of the State Prize Igor GULENKO
Ballet-masters - Shukhrat TOKHTASIMOV, Honored Artist of Republic of Uzbekistan Malika ISKANDAROVA
The performance took part:
in the Third International Chekhov's i Festival in Moscow in 1998
in International festival of theatres for children and youth in Haifa, Israel, 2002
and was played on the Closing Ceremony of the International Festival of Street theatres of CIS and Baltic countries in Kuznezk, Russia, 2000.
Duration of the performance -1 hour.
A sad musical tale without words
A cold New Year's night... A little girl is on a stage - hungry and freezing out. She is trying to seli matches and wandering the city alone. The people behind windows of houses are celebrating the festive season. The wandering blind musicians and children in their play take no notice of her suffering. Only one and absurd thing she can do is to try to warm herself with the fire of a little matchstick. And this small fire which couldn't warm her allows to show their worth to all that huge - kind and warm, cold and dark - powers that undoubtedly are exist around. During the performance with each fired matchsticks ail that powers will rush to help to little girl and try in their own way to arrange unreal and - as it seems to them - sufficient life for her. In this unreal world most bright, warm and most frightful, cold images of children's dreams and fantasies will collide. And when the girl strikes last matches it becomes clear that after a burnt of all this littie matches and candles all possibilities for Spirits - good and wicked that live around unperceived to people -possibilities to help her will finish and they will be essentially useless to her. Heaven Itself comes to help to lonely little girl and grants to her a meeting with the only person in this world who ever loved her - her Grandmother -who takes her to Heaven, to God...
The original theatre version of well known tale is made in a plastic/dance style, nevertheless in this without words performance the theme of the lost and alone Girl who vainly tries to find happiness on our guilty Earth - penetrates spectators.
The strife between warm and cold spirits symbolizes a power of chastity of human Soul and Heaven Himself comes to help to the Girl perishing from the frost.
The performance was a participant of the III Chekhov's International festival in Moscow in 1998 among other performances from 52 countries of the world. A "Moscow Komsomolets" newspaper evaluated it as "...Purely marvelous performance which not leave indifferent neither kids nor adults". And General Manager of the festival Mr. Valery Shadrin has sent a letter addressed to President of Uzbekistan I.Karimov with thanks for participation of Uzbek theatre in the festival and for showing of "... surprising colorful and spectacular performance which has opened a new page in the history of this festivals In August, 2000 this performance was played on a closing ceremony of the International festival of street theatres of CIS and Baltic countries in the Russian city - Kuznetsk. The journalist and writer from Moscow Nina Allakhverdova was responded about the play: "The Little Match Girl" really shocked us! Doubtlessly it is A MASTERPIECE, masterpiece on all parameters - directing, music, actor's play, sets...» And Honored Worker of Arts of Russian Federation, the chief of International Theatrical Lab, president of Fund ^Metamorphosis - XXI» Nika Kosenkova has addressed to the actors: «With this remarkable performance "The Little Match Girl", friends, YOU HAVE KISSED ALL OUR SOULS...»